We offer professional and comprehensive tree removal services by experts who follow safety guidelines while also being diligent in taking precautions to protect your property from damage.
Here at The Branch, our team consists of certified arborists and tree workers who prioritize safety and take the necessary precautions in tree removal. With over 30 years of experience, we have the expertise to handle all types of removal scenarios using the latest technology and equipment while also protecting your property as we remove trees.
Importance of Tree Removal
Sometimes, it is necessary to remove or cut back a tree to ensure safety or improve the appearance of your property. Tree trimming is essential for promoting growth, removing hazardous branches, and making your property look its best. With our meticulous and thoughtful approach, we ensure that each tree-trimming project is completed with the utmost care and attention to detail.
This service is usually offered as a last resort when a tree is:
Causing obstruction not correctable by pruning
Dead, undesirable, or an invasive species
Considered hazardous
Crowding or causing harm to other trees
To be replaced by another specimen
Located in an area where new construction requires removal
Causing damage to a sidewalk, driveway, foundation, etc., due to invasive stump and/or roots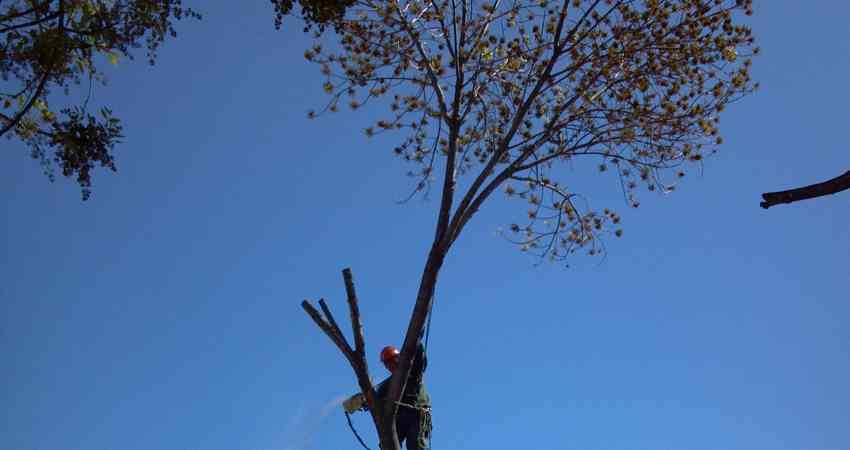 Professional Tree Service
In addition to tree removal, we offer expert tree trimming services. When it becomes necessary to trim or remove a tree from your property, you can trust our team to handle it efficiently and safely. Our services are offered as a last resort, typically in situations where a tree is causing an obstruction that cannot be corrected.
Our arborists practice safety pruning, thinning, lacing, shaping, crown reduction, and restoration techniques to maintain the health and aesthetic of your trees.
Why Trust Us
You can have confidence that our team will take care of your trees and property as though they were our own. Our company has over 30 years of removal experience and uses the latest technology and equipment to safely and efficiently handle all sorts of removal scenarios. We meticulously and thoughtfully approach each project with the safety of our team and your property in mind.
The Branch in San Marcos and Escondido, CA, offers a full range of arborist services: tree trimming, pruning/safety pruning, thinning/lacing, shaping, crown reduction/restoration, tree removal, tree planting, root barriers, hedge trim/removal, stump grinding, brush chipping, landscaping services, thorough cleanup, and free mulch and wood.
Get in Touch with Us Today
For all your tree removal and tree trimming needs, contact The Branch today. Schedule an appointment to discuss your project with our team of certified arborists and experience firsthand our commitment to excellence in tree services.