Palm trees require special care when pruning in order to optimize their health and appearance. We use the latest climbing techniques and pruning methods when pruning palms as not to cause unnecessary damage. Whenever possible, we will climb spurless as to not cause unnecessary damage to the trunks of the trees that may cause entry points for disease, decay or pests.
When climbing trees that have large amounts of hazardous dead/loose fronds (such as in the case of many 'Washingtonia robusta' aka Mexican Fan Palm tree), we will climb over the canopy in order to avoid being "caught" underneath the heavy fronds that may lead to injury or even death to those who do not have the proper training. Safety for our team is our #1 priority and we take every precaution when approaching a project.
When we approach a Palm tree project, we aim to trim just the right amount of fronds in order to give a beautiful appearance, while still maintaining the health of the tree. We offer specific requests as well as full service pruning. This includes removing old husks, dead/dying fronds and seeds/seed pods.
We also offer full service Canary Island Date Palm tree sculpting/pineapple shaping as well as pruning and seed removal. We have offered this service for many years and if you'd like to see pictures of our work, please feel free to inquire and we'd be happy to provide more photos.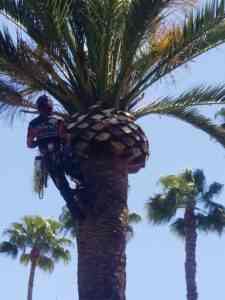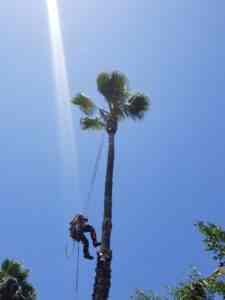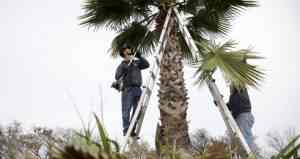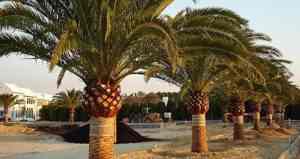 Popular

Palms

Canary Island Date Palm
Queen Palm
Mexican Fan palm
King Palm
Pygmy Date Palm