Palm trees are one of the most common types of tree in North County. Our arborists have specialized in Palm tree care from our beginnings.
Palm trees require special care when pruning in order to optimize their health and appearance. We use the latest climbing techniques and pruning methods when pruning palms as not to cause unnecessary damage. Whenever possible, we will climb spurless as to not cause unnecessary damage to the trunks of the trees that may cause entry points for disease, decay or pests.
When climbing trees that have large amounts of hazardous dead/loose fronds (such as in the case of many 'Washingtonia robusta' aka Mexican Fan Palm tree), we will climb over the canopy in order to avoid being "caught" underneath the heavy fronds that may lead to injury or even death to those who do not have the proper training. Safety for our team is our #1 priority and we take every precaution when approaching a project.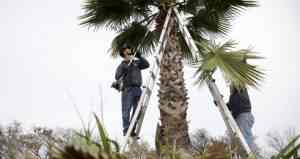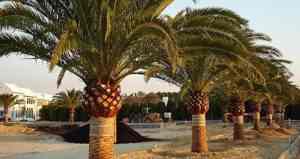 Popular Palms
While many people are familiar with the Coconut variety of Palm Tree, many are unaware of how diverse the Palm Tree family is. Our teams are trained to deal with all varieties and can provide a service catered to your needs. Our specialists are far more than 'loppers', they are tree-loving horticulturalists who are trained to give the best service to you and the best care for your trees.
  Alexandra Palm
  Bangalow Palm
 Carpentaria Palm
  Coconut Palm
  Wedge Leaflet Fan Palm