About

Our Company

Derek & Trevor

Derek and Trevor are a father and son team. It is their goal to continue providing high-quality tree service within our community while striving for a "teamwork" oriented mindset. We believe that all facets of the engine need to be working together for the machine to work properly. We will give our best recommendation on a course of action, but will also strive to achieve your goals with the project. For those of you who are our repeat customers, we thank you, and for those of you who are considering hiring us for the first time, give us a try!

History

Derek Long worked for a reputable landscape company in the early 1980's. Then in 1986 he branched out on his own and began doing tree work and then became a State Licensed Contractor in 1991, and when he incorporated in 2011 he became President and CEO of The Branch. Derek has been doing tree work in the San Diego area for over 30 years and is a Certified Arborist and a Certified Tree Worker, and he looks forward to being in the tree service industry for many years to come.
Trevor Long was raking leaves and dragging branches for his dad, and later on he began climbing trees and learning the trade, beginning at an early age. His passion for tree work grew and Trevor is now a Certified Arborist and an experienced Certified Tree Worker. He has also earned a bachelor's degree (Cal State University San Marcos) and is Vice-President of The Branch.
We are a family owned business,
Dedicated to upgrading the aesthetic appeal and value of your home or property. Whether it be meticulously removing a tree, artistically pruning a tree, or carefully planting a tree, etc., we will strive for excellence in all of our services offered. Our goal is to be professional in our work, prompt in our appointments, honest in our assessments, and courteous with our customers. We offer free estimates to our customers, both residential as well as commercial. We have found a profession that allows us to contribute to improving the environment within our community, and we want to do all we can to give our customers the best price along with the highest quality of work.
For expert tree care by an ISA Certified Arborist, contact The Branch in San Marcos and Escondido, California. We are experienced professionals and our company is fully licensed and insured.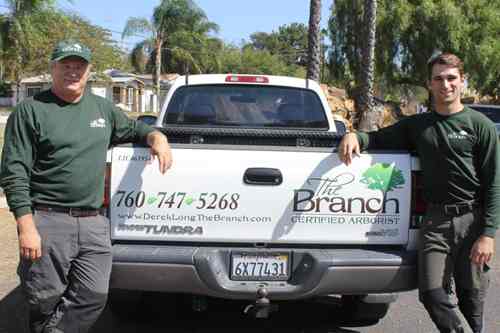 State Contractors License #619549
Certified Arborists
Certified Tree Workers
Serving San Diego For Over 30 Years

Certifications

& Credentials

Contact The Branch in San Marcos, Escondido, CA, at (760) 747-5268 for complete tree trimming, tree removal, and stump removal by a certified arborist.